Dr. Jeff Horacek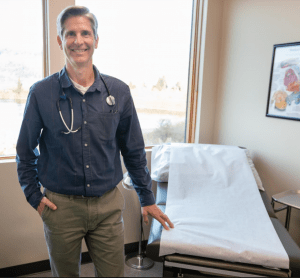 For over 20 years, Dr. Jeff Horacek spends each day helping people transform their health. Board certified in Internal Medicine in 1995 after graduating with honors from the U. of Oklahoma Medical School, he served as Chief Resident at Providence Portland from 1995-96.
For Dr. Horacek, medicine is part of his heritage. His grandfather was a respected family practice doctor in rural Nebraska; his mother was a beloved RN in rural Oklahoma. Through them, he learned that the "healthy connection" between doctor and patient is the foundation for all healthcare.
After attending the Applying Functional Medicine to Clinical Practice conference in 2015, Dr. Horacek found his passion. The centerpiece of Functional Medicine is the "whole person approach," and this is how Jeff treats patients with complicated, unrelenting chronic illnesses. He implements the latest in scientific and medical breakthroughs to advance the healing of his patients, with individualized care for each one. While he knew he was helping people using traditional Internal Medicine protocols, implementing a Functional approach has resulted in powerful and positive health improvements for patients who had been suffering for years.
Dr. Horacek co-founded and leads the non-profit board of Mindful Medicine PDX, an organization providing mindfulness training and weekend workshops for healthcare providers. Dr. Horacek also served on the board of Living Yoga which helps people overcome personal challenges through mind-body practices.
He re-located with Heather and her daughters from Portland (after launching his two daughters to the University of Oregon!) to beautiful Hood River in 2016, returning to small-town life with all its community benefits and connections. Here, he enjoys time in outdoors in nature, and loves the abundant recreational options of The Gorge. In December of 2020, after months of intense preparation and study, Dr. Horacek became an Institute for Functional Medicine Certified Practitioner (IFMCP). We are proud of this accomplishment!
Take The First Step Towards Optimal Health
Wondering if Healthy Connections is right for you? Our Practice Administrator is happy to answer your questions!