Heather Nielsen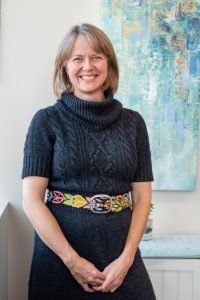 The healing power of Functional Medicine, delivered by several compassionate and cutting-edge health care providers, personally transformed Heather's health and life. This healing experience inspired and motivated her career shift to co-create Healthy Connections Hood River with her husband, Dr. Jeff Horacek.
Heather previously worked at The Whittier Institute for Diabetes in San Diego, specializing in training and education for patients and providers to live well mind-body-spirit with diabetes – something she knows firsthand, having lived with Type 1 diabetes since 1997. She and Dr. Horacek worked together in Portland for several years specializing in supporting clients with diabetes and metabolic conditions. Heather has also worked at Reed College in Portland, and One Community Health in Hood River on integrated behavioral teams, supporting adolescent clients with both medical and social/emotional concerns. It became increasingly evident that these things are linked, affirming her belief in the clear and powerful connection between our minds and our bodies.
Both Dr. Horacek and Heather have long personal practices of meditation and mindfulness. These practices weave into their work with clients, and support the foundation of the work they do together. Without clear awareness of what is going on in our minds and bodies, it can be hard to find authentic resolution.
Having lived in Hood River previously, Heather is thrilled to return, both for the personal/lifestyle offerings for her family (including three teenage daughters!) as well as for the professional opportunity to create true Healthy Connections within this vibrant, beautiful, and connected community.  Through the practice of Healthy Connections Hood River, Heather provides mental health counseling, health coaching, functional lifestyle education, and teaches classes and workshops both live and online.
Take The First Step Towards Optimal Health
Wondering if Healthy Connections is right for you? Our Practice Administrator is happy to answer your questions!