Barb Berry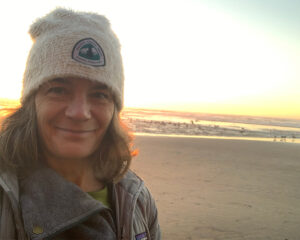 When you meet Barb Berry at the clinic your first thought may be: "Where have I seen her before?" Perhaps you spotted Barb on stage in a local community theater production. Or maybe you chatted with her when you visited a new grandchild at the hospital where Barb worked as a labor and delivery nurse. Or you may have passed her while hiking a trail on Mt. Hood or nearby Indian Creek.
Barb has spent the past 30 years in the Columbia River Gorge —working, raising her children and becoming a true PacNW native. Though she was born in North Carolina and raised in Kansas, she feels lucky to call Hood River her home. Barb enjoys gardening, cooking homegrown and Gorge-grown produce, cycling, hiking, backpacking and all this beautiful, bountiful valley has to offer. She volunteers with SMART, sharing the gift of literacy with preschoolers, as well as FISH food bank and the Hood River Valley Adult Center.
Barb earned a B.S. in Community Health from Kansas State University and a degree in Nursing from Columbia Gorge Community College. Her career includes positions in public health, private clinic and community hospital settings. Over the years, Barb has most enjoyed building connections with clients, educating and empowering them to play an active part in their own health.
Joining Heather and Jeff at Healthy Connections was a natural fit for Barb, who values being a part of a care team that sees each client as an individual while providing holistic, compassionate care and ongoing support.
Take The First Step Towards Optimal Health
Wondering if Healthy Connections is right for you? Our Practice Administrator is happy to answer your questions!